DUSATEC Gelimat™ Technology
Simplified design
Lower operating costs
Significant energy savings
Optimum material and quality uniformity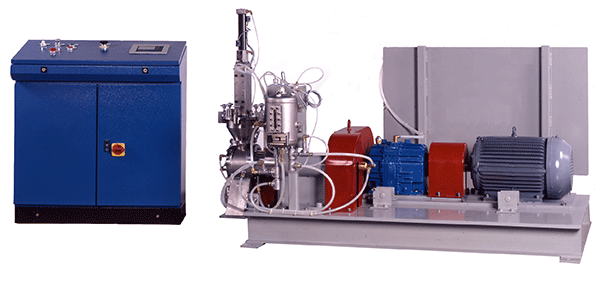 The Gelimat system can accomplish multiple changes in process parameters during a brief cycle time. This allows the user to accelerate and optimize the processing of the most difficult polymer compounds. The ability to change the process parameters in a short time span results in a highly versatile production device.

Based on ultrahigh-speed thermokinetic principles and featuring advanced process control technology, the Gelimat system is ideally suited for the production of complex polymer compounds, wood or cellulose fiber composites as well as color concentrates (master batches). The Gelimat offers advantages for processing advanced, high-temperature compounds. Uniform temperatures in excess of 600°F can be achieved in under 30 seconds.

Gelimat's advantages include the elimination of pre-drying of wood fiber prior to processing; exceptionally high dispersion quality; the shortest processing times; and suitable for highly filled compounds (up to 85%). Materials such as PE, UHMWPE, LLDPE, PP, PVC, ABS and virtually any other thermoplastics or thermosets can be processed in the Gelimat system. Plastics can be commingled with particulates from metals, glass, stones, etc. and require almost no separation.

The batch residence time in the Gelimat ranges from 0 to 30 seconds. Precise process controls ensure materials are not overworked. Systems are available ranging from laboratory scale to large production sizes with rates as high as 20,000 pounds per hour.